A few months ago I posted a step-by-step guide on how to install Python 2.7.3 on CentOS 6.2. The guide started out as a personal cheat-sheet, but it didn't take much work to massage it into something I could post here.
The only promotion of the guide I've done is to post a link to it from an answer on Stack Overflow. With only one useful article and almost no promotion this website is still getting 60+ unique visitors a day on weekdays.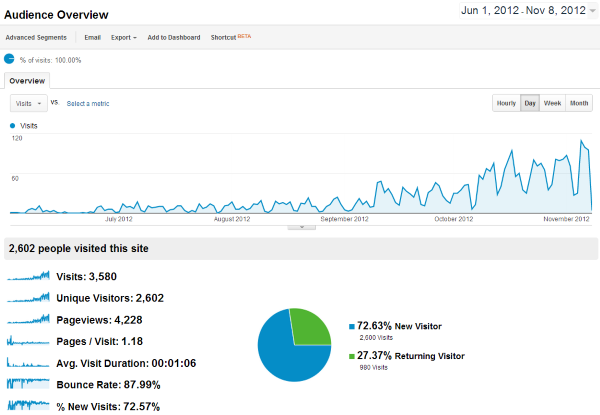 I don't understand why I get so many visitors, but much of the traffic comes from long tail (see below) organic search results on Google:

I like the idea of helping people and with numbers like these I feel compelled to put some more effort into this website. Expect to see more helpful articles in the future.
Ian Lurie defines long tail as:
Specific, niche search phrases, usually more than 2 words in length, that offer a low competition, low search volume and high searcher intent.